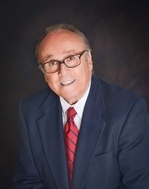 Owner / Broker | Realtor Vernon Office
Vernon Office
646 Hartford Turnpike
Vernon, CT 06066
Email Phone: 860-871-2775

About Ben
Email:
benc@sentryrealestate.com
Licenses:
Real Estate Broker's License
Affiliations:
Member, State of Connecticut Real Estate Commission, Governor appointed
Member, State of Connecticut Mobile Manufactured Home Council, Governor appointed
Member, Greater Hartford Association of Realtors
Member, Tri-county Association of Realtors
Member, National Association of Realtors
Member, Connecticut Association of Realtors
Former chairman, Vernon Real Estate Board of Ethics Committee
Former member, advisory board, Manchester Community College
Former member, Advisory Board, Savings Bank of Manchester
Former Corporator, Rockville Bank
Member, National Relo Council since 1976 serving: Cendant Mobility, GMAC Global Relo, Prudential Relo, Weichart Relo Services, ResNet, Altisource, Aires Relocation, Brookfield Relo.
Qualifications:
Sales associate with Sentry Real Estate since 1975
Over 38 years experience in all aspects of Real Estate, including property management
Strong negotiating skills and problem solving ability
Involved in over 2100 transactions
Experienced in all forms of financing
38 years experience + over 2100 transactions = RESULTS
Ben's Testimonials
Ben acted as my Broker for the expeditious sale of a house that had been in our family for almost 100 years. The house sold within a remarkable few weeks due to the superior attentiveness and expertise of Ben Castonguay, who had also been my broker in a previous transaction. Five stars does not adequately award Ben or his entire staff with the recognition they all so completely deserve. Anyone who chooses Ben Castonguay and Sentry Real Estate will be in competent and reliable hands for their [...]
Valerie Passaro
Ben was great to work with. He answered all of my questions regarding my new home purchase. He was an advocate for my side of the transaction and made sure all of the paperwork was filed properly. He communicated with my attorney and lender. He made a stressful process seem easy.
Rebecca Altomare
Ben was extremely helpful, not only for the process of selling my house, but also in listening and advising me on choices for this next stage of my life. Many thanks!
Carol Chappel
This was our third house that we sold with Ben. Ben is phenomenal - he knows the market and he gives honest advice as to pricing and negotiation. We always feel very well taken care of when dealing with Ben. I cannot recommend Ben highly enough!
Brian Nichols
Ben went above and beyond with the sale of my parent's house! He was easy to reach when my brother and I needed to talk to him. It was a tough sale but he never gave up! Thank you Ben!
Jan M.
Compassionate, caring, confident and very compotent ! I had a difficult time parting with a piece of property that had been in my family for generations and years. Ben was very patient and understanding and gave me some excellent advice. My husband and I were very happy with Sentry Real Estate. Ben is the best!
Deb Hay
Ben is one of the rare true gems of this industry. Years ago he was my agent when I bought my first home. His patience and integrity made an impression on me then, and I had an equally good experience working with him when I sold that home a decade later. So it was only natural that when my husband and I decided to sell our current home and move to a neighboring town that Ben was the one we called. He was very patient with us throughout our (very) lengthy home search, as we walked through home [...]
Jennifer Lange
Ben has been a great resource for our family over the years, helping us both buy and sell properties. He takes care of the little details and gets the job done. Absolutely a pleasure to work with!
Mark Wolverton
Are you looking for a real pro to support your home sale with candid input, a realistic approach to pricing and negotiation, and a network of resources to make your home all you want it to be in a timely fashion, then you should start your market placement considerations with Ben Castonguay of Sentry Real Estate. Ben knows the market. Ben upgraded his website, as we were placing our home on the market a critical component to the selling process. He understands the search by buyers starts on [...]
Rich & Terri Carreau
Ben gets 5 plus stars from me! He went above and beyond for me. I have been sick for most of the process of selling my house. He has been there to help me out every step of the way. He is wonderful to work with. You know what is going on every step of the way and he responds quickly when you call. I cant say enough good things about him. I would highly recommend him as he was highly recommended to me. Thank you Ben. I will forever be grateful for all your help during this extremely [...]
Kathy Goldsmith