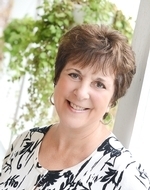 Vernon Office
646 Hartford Turnpike
Vernon, CT 06066
Email Phone: 860-871-2775

About Jill
Email:
jillc@sentryrealestate.com
"WHY YOU SHOULD CONTACT ME TO HELP YOU IN EITHER PURCHASING OR SELLING YOUR HOME"
Real estate has always been my passion. My husband, Fran, and I have owned and sold two houses and a condominium, so I personally know what its like to be a Purchaser, Seller and a Landlord. I am ready to provide excellent customer service and care to all of my clients in fulfilling their dream for a new "place to call home."
Employee Background information. I was an Administrative Assistant for "high level" Managers during my 35 years with the State of Connecticut. In addition to my being an Administrative Assistant, I was also the Office Supervisor for 12 years for the State Leasing Division and 12 years for the State Parks Division. During the supervision of these offices, my career duties included specializing in leases, contracts and all aspects of property management. I personally handled all of the various Concession Contracts for the State Parks Division. This included every step, from the bid process, negotiating the contract, to handling any problems or complaints the customers may have had. "If you ever bought a hamburger at a food concession in a state park, I was the person who handled all administrative duties for the concession operation."
Proud to say that I have been a CT Licensed Realtor since 2011.
Memberships. Wapping Community Church; the National Association of Realtors, CT Association of Realtors and the Tri-County Board of Realtors.
Hobbies. Spending time with Family; Interior Decorating; RV'ng; Animal Lover; Hiking; Civic Affairs; Visiting State Parks and Forests.
Sample of Accomplishments. Proud Recipient of the Governor's Office "Constituent Services Award"; Special Use Coordinator/Administrator for filming in the state parks and forests, example: the "Disney Old Dogs" Movie (which starred Robin Williams and John Travolta) at Putnam Memorial State Park; Department Coordinator for the Susan B. Komen Breast Cancer Walk-a-Thon.
I am always available and reachable to discuss any real estate needs that you may have and I promise to provide 110% personal attention to each and every one of my clients!
Jill's Testimonials
In October 2015, we hired Jill Carr to help us sell my fathers home. The home had been on the market for over a year and we felt we needed a new realtor that would work hard to help us sell. Jill took immediate control of the situation. She gave us feedback on how to get the house ready to show . Jill expended a great effort to assure the best possible open house showing. Jill provide immediate feedback through all negotiations and communicated to our legal team to make the closing as [...]
Lori O'Connor
Recently my wife and I had the task of selling a house in Coventry Ct. and finding a larger home in the same general area. We tried several local real estate agents but nothing seemed to click for us.Then we met Jill Carr of Sentry Realty. Her calm and patient approach coupled with a total commitment to our well being made the sale of our house go as smooth as possible while also making it possible to simultaneously find and purchase our "dream home". She professionally assisted [...]
Jeff and Jackie Lancaster Sold a home in Coventry, CT and bought a home in Bolton, CT.
We were very pleased with Jill Carr's service as our Realtor. She is very friendly, yet always professional. Jill took excellent pictures of the house that we had for sale and wrote about many updates and positive features, which I believe helped sale the house in a very timely manner. Jill was always available to answer any questions that we may have had and was always quick to respond to messages. I would not hesitate to request Jill's service in the future and would highly [...]
Joanne & Phil Coach Sold a home in E. Hartford, CT.
125 POND LANE, MANCHESTER I would like to express the great job that Jill Carr did in selling my mother-in-law's house. She was always on top of things and kept us well informed on all the showings of the house. Multiple open houses and broker feed back was very important feedback to us. I would definitely recommend her to sell your house!
Eileen Haddock
I am a homeowner!!! Thanks to Jill Carr. Jill is the best realtor very attentive, on time, patient and well-organized!!! My time looking for a house with Jill was pleasant and I have no complaints. I had been looking for a house for about a year before signing with Jill. As soon as I signed with Jill she made me feel it was about me and my needs. We went to see several houses. My budget was limited. She never made me [...]
Kim Taylor